Technical
We have our own PA system which we can bring with us. If you are supplying the PA, this is what we need.
A mixing desk with 11 input channels and 11 mic preamps.
At least two foldback monitors, with separate mixes.
Phantom power (global is okay).
Mains supply for pedals and amps at both the front (mostly) and back of the stage.
There are five of us, four stand while Eric (drum) requires a low stool or chair without arms.
Technical contact: Neil Poulter 01684 569611, 07866 02489, info@flatworld.band.
Download: Stage Plan (PDF)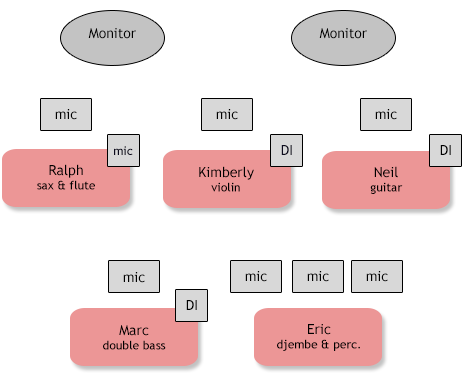 Ralph

---

| | |
| --- | --- |
| Mic: | Sax (we provide), requires phantom power, global is okay |
| Mic: | Flute (condenser, on a boom) |

Kimberly

---

| | |
| --- | --- |
| DI: | Violin amp (XLR) |
| Mic: | Vocals (on a boom) |

Neil

---

| | |
| --- | --- |
| DI: | Guitar amp (XLR) |
| Mic: | Vocals (on a boom) |

Eric

---

| | |
| --- | --- |
| Mic: | Djembe (on a short boom) |
| Mic: | Percussion (condenser, on a short boom) |
| Mic: | Vocals (on a boom) |

Marc

---

| | |
| --- | --- |
| DI: | Bass amp (XLR) |
| Mic: | Vocals (on a boom) |