Technical
We have our own PA system which we can bring with us. If you are supplying the PA, this is what we need.
A mixing desk with 11 mic preamps.
At least two foldback monitors, with separate mixes.
Phantom power (global is okay).
Mains supply at front and back of the stage.
Technical contact: Neil Poulter 01684 569611, 07866 021489, info@flatworld.band.
Download: Stage Plan (PDF)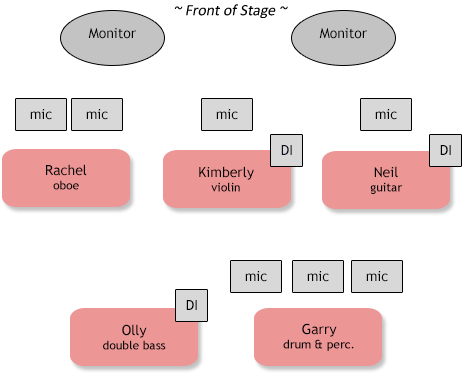 Rachel

---

| | |
| --- | --- |
| Mic: | Oboe, condencer (on a boom) |
| Mic: | Oboe, condencer (on a boom) |

Kimberly

---

| | |
| --- | --- |
| DI: | Violin amp (XLR) |
| Mic: | Vocals (on a boom) |

Neil

---

| | |
| --- | --- |
| DI: | Guitar amp (XLR) |
| Mic: | Vocals (on a boom) |

Garry

---

| | |
| --- | --- |
| Mic: | Kick Cajon (short boom) |
| Mic: | Snare Cajon, condenser (short boom) |
| Mic: | Percussion, condenser (overhead) |

Olly

---