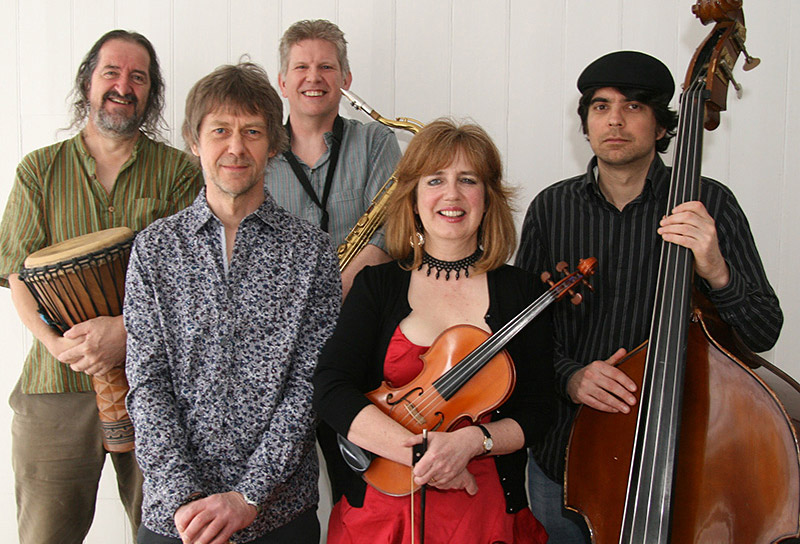 "Brilliant... like The Ukrainians meet klezmer"
"Love the music..."
Rich compelling melodies and tight driving rhythm, Flatworld play an eclectic mix of music from Eastern Europe and beyond.
We take tunes and songs from Eastern European folk traditions (and elsewhere) and present them in a lively and accessible form — audiences are often dancing by the end of our show.
The line-up is:
Oboe
Violin, vocal
Guitars, mandolin, vocal
Double bass
Djembe, percussion
Music
More tracks are on our Bandcamp page.
Gigs
Sign up to our E-Mail List to hear about forthcoming gigs. Browse the Archive to see where we've played previously.
2023

Sun
30
Apr
-
Ross Beer Festival, Rowing Club, Ross-on-Wye, Herefordshire HR9 7BU, 2.30 pm

CANCELLED

Thu
29
Jun
-
Ludlow Fringe Festival, Ludlow Brewery, Ludlow, Shropshire, 7.30 pm

CANCELLED

Thu
27
Jul
-
Three Choirs Festival, Cathedral Bandstand, Gloucester, 6.30 pm

CANCELLED

Sat
18
Nov
-
West Malvern Social Club, Malvern, Worcs